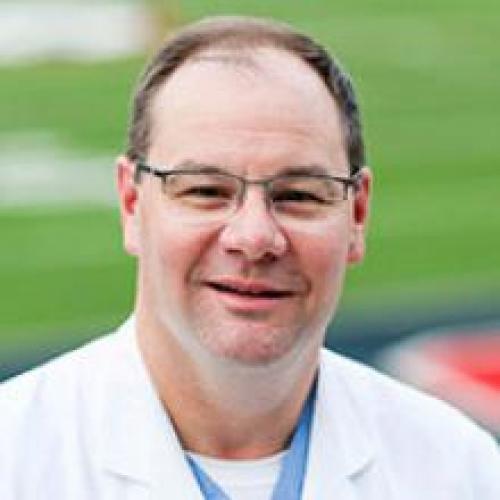 Specialty

Orthopaedic

Certification(s)

American Academy of Orthopaedic Surgeons, Subspecialty Certification in Sports Medicine

Medical School

University of Mississippi Medical School

Office Location

497 Azalea Dr.

|

Oxford

,

MS

|

38655

Phone

Practice
Dr. Daniel Boyd joined the Oxford Orthopaedics and Sports Medicine team in 2006. Dr. Boyd specializes in shoulder, hip, and knee surgery, advanced arthroscopic surgery and joint replacement surgery. Showcasing his true dedication to the field of orthopaedics, Dr. Boyd holds a unique double board certification in Orthopaedic Surgery and Orthopaedic Sports Medicine from the American Board of Orthopaedic Surgeons. Dr. Boyd is one of only two orthopaedists in our area to have completed a sports medicine fellowship and to be double board certified in orthopaedics.
Dr. Boyd's passion for orthopaedics and sports medicine is deeply rooted, dating back to his days on the gridiron as a two-time All-Southeastern Conference football player and academic All-American at Mississippi State University. Following graduation Dr. Boyd was a free agent Linebacker for the NFL's Miami Dolphins. After leaving professional football, Dr. Boyd continued his education at The University of Mississippi Medical School where he served as class president for all of his four years. An experienced resource for athletes and non-athletes alike, Dr. Boyd has treated patients associated with the NBA, NFL, World Cup Soccer, and numerous collegiate and high school athletic teams. Currently Dr. Boyd is an Orthopaedic Surgeon and Sports Medicine Specialist for The University of Mississippi athletic teams.
Dr. Boyd completed his orthopaedic residency at the University of Texas Health Sciences Center at San Antonio, training in all areas of orthopaedic care. Dr. Boyd was honored to be elected as the Chief Orthopaedic Resident his final year of residency. While in Texas, Dr. Boyd was fortunate to train under world renowned surgeons who author/edit the most widely used textbooks for orthopaedic practices in the care of adult broken bones , pediatric broken bones, shoulder surgery, hand surgery and sports medicine care.  Dr. Boyd participated in original research projects which were presented at national and international meetings.
Dr. Boyd has extensive training in the care of broken bones and orthopaedic trauma.  He was the recipient of the SCROT Trauma Award in 2003, allowing him to take part in an international training program for Orthopaedic Trauma.  Dr. Boyd was fortunate to train under trauma specialists at one of America's busiest Level I Trauma Centers where the most widely used textbook for trauma, Rockwood and Green's Fractures in Adults is produced.
Treating children's sports injuries and broken bones is of great interest to Dr. Boyd. While in Texas, Dr. Boyd trained under Dr. Kaye Wilkins, editor of Rockwood and Wilkins Fractures in Children. Additionally, his surgical training afforded him the experience of working in a major metropolitan pediatric hospital where the extensive research provides the research basis of many treatment rationales for children with orthopaedic disorders. 
Following residency, Dr. Boyd was selected as a sports medicine fellow of the San Antonio Orthopaedic Institute affording him the opportunity to learn from one of the pioneers of arthroscopic shoulder surgery, Dr. Steven Burkhart, author of Advanced Arthroscopic Shoulder Surgery.  During the fellowship, Dr. Boyd took part in instructing visiting surgeons from both the U.S. and other countries in the latest techniques in arthroscopic shoulder surgery.  Furthermore, during his training Dr. Boyd studied shoulder surgery under Dr. Charles Rockwood editor of the aforementioned fracture textbook and Rockwood and Matsen's: The Shoulder.
During his training Dr. Boyd was fortunate to be mentored by Dr. Jesse Delee, director of the Sports Medicine fellowship program where the most widely used sports medicine text, Delee and Drez's Sports Medicine Principles and Practices is produced.  Under the direction of Dr. Delee, Dr. Boyd learned advanced arthroscopic treatments of sports medicine injuries and took part in the care of amateur and professional competitive athletes.  Also Dr. Boyd extensively studied the latest arthritis treatments of the hip and knee to include partial and total joint replacement as well as less invasive reconstruction techniques.
A former president of the North Mississippi Medical Association, Dr. Boyd is currently a member of the American Academy of Orthopaedic Surgeons, the American Society of Sports Medicine, the North American Arthroscopy Association and the Mississippi Medical Association. Dr. Boyd has served on the Medical Executive Committee and as chairman of the Continuing Education Committee at Baptist Memorial Hospital. Dr. Boyd continues on the North Mississippi Physicians Association Board of Directors and serves on the medical staff of Baptist Memorial Hospital - North Mississippi. Dr. Boyd cares for patients in both his clinics in Oxford and Grenada.  Dr. Boyd performs surgery at the Oxford Surgery Center and Baptist Memorial Hospital - North Mississippi.
Dr. Boyd and his wife, Nicole, a native of Oxford, highly value community involvement and are active advocates for special needs children.